Melissa Davis Signature Series
Style-inspired product series curated by HGTV designer Melissa Davis to help make it easier for you to find the perfect flooring for your home.
Style-Inspired Flooring Collections
We have partnered with HGTV designer Melissa Davis to combine our products with her award-winning design insight to bring you three style-inspired collections - Classic Contemporary, Modern Industrial and Natural Organic. Each collection, expertly curated to combine all flooring categories, makes it easy for you to choose floors for your entire home, while maintaining a cohesive feel that you love. Watch below as Melissa Davis discusses each collection.
Design Your Home With Melissa
Share your inspiration and discuss your design queries with Melissa as you take her on a tour of your home via Skype. From interior styling to exterior updates, Melissa will share sketches, materials, images and ideas for your home as if you were sitting side-by-side in her studio. To get started, request the exclusive Carpet One Floor & Home promo code for a discounted hourly rate.
REQUEST THE EXCLUSIVE CARPET ONE PROMO CODE
Melissa Davis Signature Series Collections
What's your design style? Classic contemporary, modern industrial or natural organic? Hear from Melissa Davis below to find out.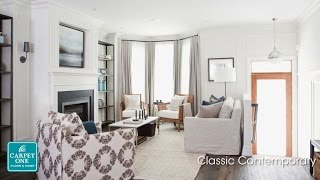 Classic Contemporary
Timeless and tailored, this refined take on more classical styling is best described as understated elegance. Hotel finishes with rich wood tones, hits of polished nickel, soft gloss sheen and luxurious materials.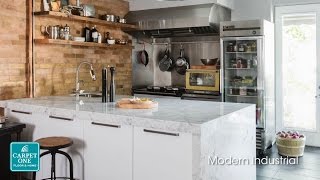 Modern Industrial
This urban and youthful style mixes raw metals, re-purposed and industrial materials. Oiled finishes on woods, exposed function of Edison bulbs and fresh edge with a distinct absence of polish.